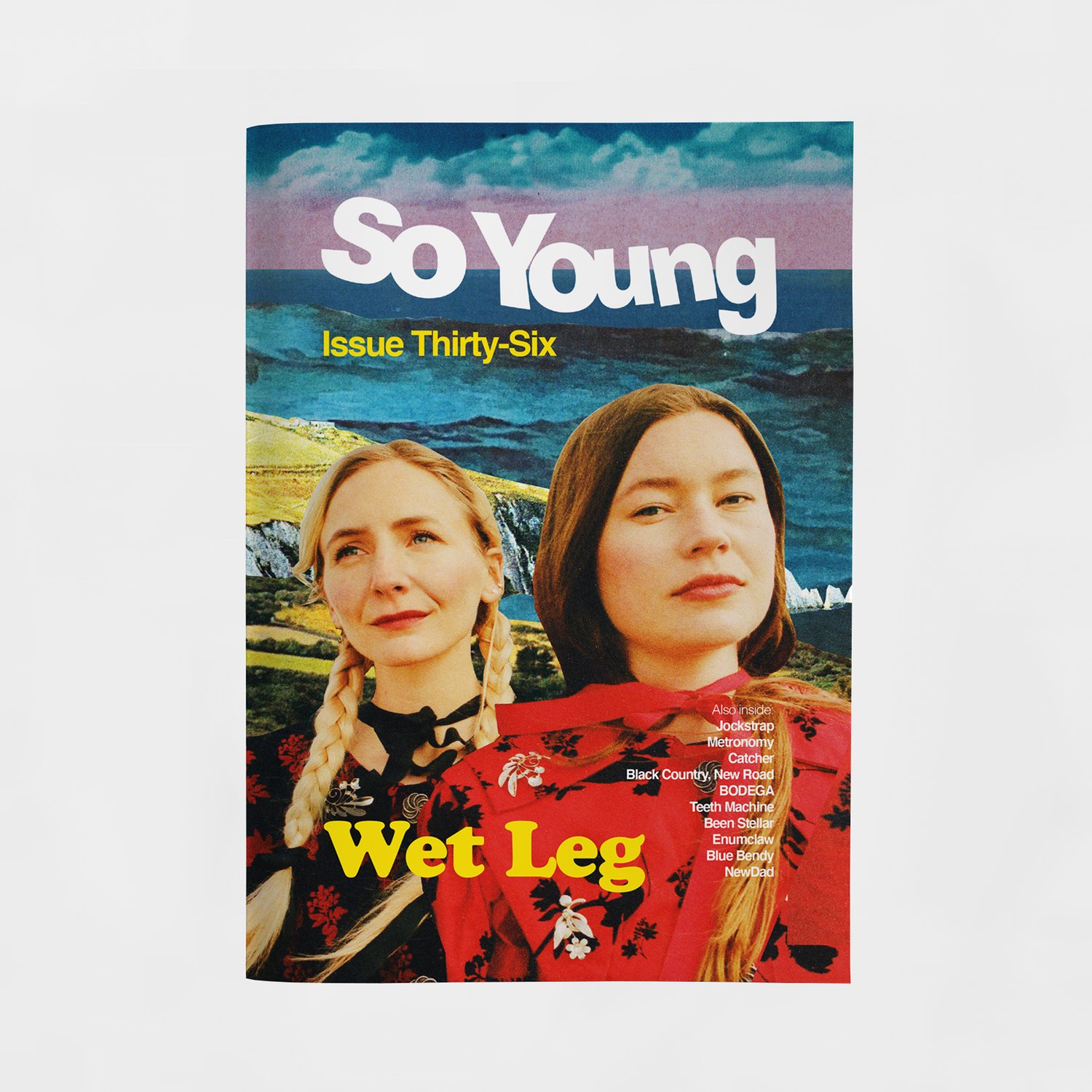 So Young Issue Thirty-Six
So Young Issue Thirty-Six
It's the first issue of 2022 and it's one which sees us blend exciting brand new artists with established, and now potentially, household names. The fastest rising of course are our cover stars, Wet Leg. The Isle of Wight newbies are preparing to release their debut via Domino Records and we squeezed into their now hectic schedule to confront the "industry plant" allegations and escaping the island.
Jockstrap have signed to Rough Trade, and in their first interview for two years, Georgia Ellery and Taylor Skye tell us all about the thrill of giving something personal to the world, and how their music is never a joke - ever. Hopping over to Georgia's other project, Black Country, New Road, it's the opposite. As the band prepare for the release of sophomore album, 'Ants From Up There', members, Charlie Wayne and Tyler Hyde, tell us how the majority of their music starts as a joke, as well as how they nearly made an accessible album.
Whilst quarantining in Paris, Metronomy's Joseph Mount takes our call. Following the recent release of their EP 'Posse EP Volume 1' (which saw collaborations with Sorry, Folly Group and more), the band are gearing up for the release of their new album 'Small World'. We caught up to discuss the inevitability of Radio 2, influencing a new generation and finding out where the band now lie in the world.
In London, Blue Bendy are getting excited to finally release a body of work beyond a single. In a journey that began back in 2019, debut EP 'Motorbike' is out in February and we reached out to hear more about it. Staying in the city, newcomers, Teeth Machine have just shared their debut single 'Drive By DK' via Slow Dance. Excited for what's to come, we caught up before a show to discuss releasing books and how their songs are like animals. Heading to Galway, Ireland, four-piece, NewDad are about to release their second EP, 'Banshee' following a much hyped 12 months which included their debut (and Sold Out) London shows. Ahead of its release, we Zoom'd to get an insight into the alternative scene in Ireland as well as their route towards poppier songs.
We tie up the new issue with a flurry of conversations in the United States. New York stalwarts, BODEGA, kick us off with an in depth look into their Heidegger inspired new album, before the new breed of Catcher and Been Stellar give us a first glimpse into their world. To see us out, it's over to the Pacific Northwest where we find the much hyped, Enumclaw. The band share their experiences of not having any black role models in the world of guitar bands, tell us how wrestling inspired their name and discuss the influence of the nineties.
Artists in this issue;
Josh Whettingsteel
Pat Thomas
Nando von Arb
Ian Moore
Cameron JL West
Ramon Keimig
REN
Clara Girke
Inkee Wang
Judith Weber
Gabriel Hollington
UK Shipping £1.50 Royal Mail 1st Class
Overseas Shipping £6 Standard Airmail
Please Note: For card payments (via Stripe), Billing address must match with that on the card. If you wish to have your purchase delivered to an alternative address please leave the address within 'Delivery Notes'.