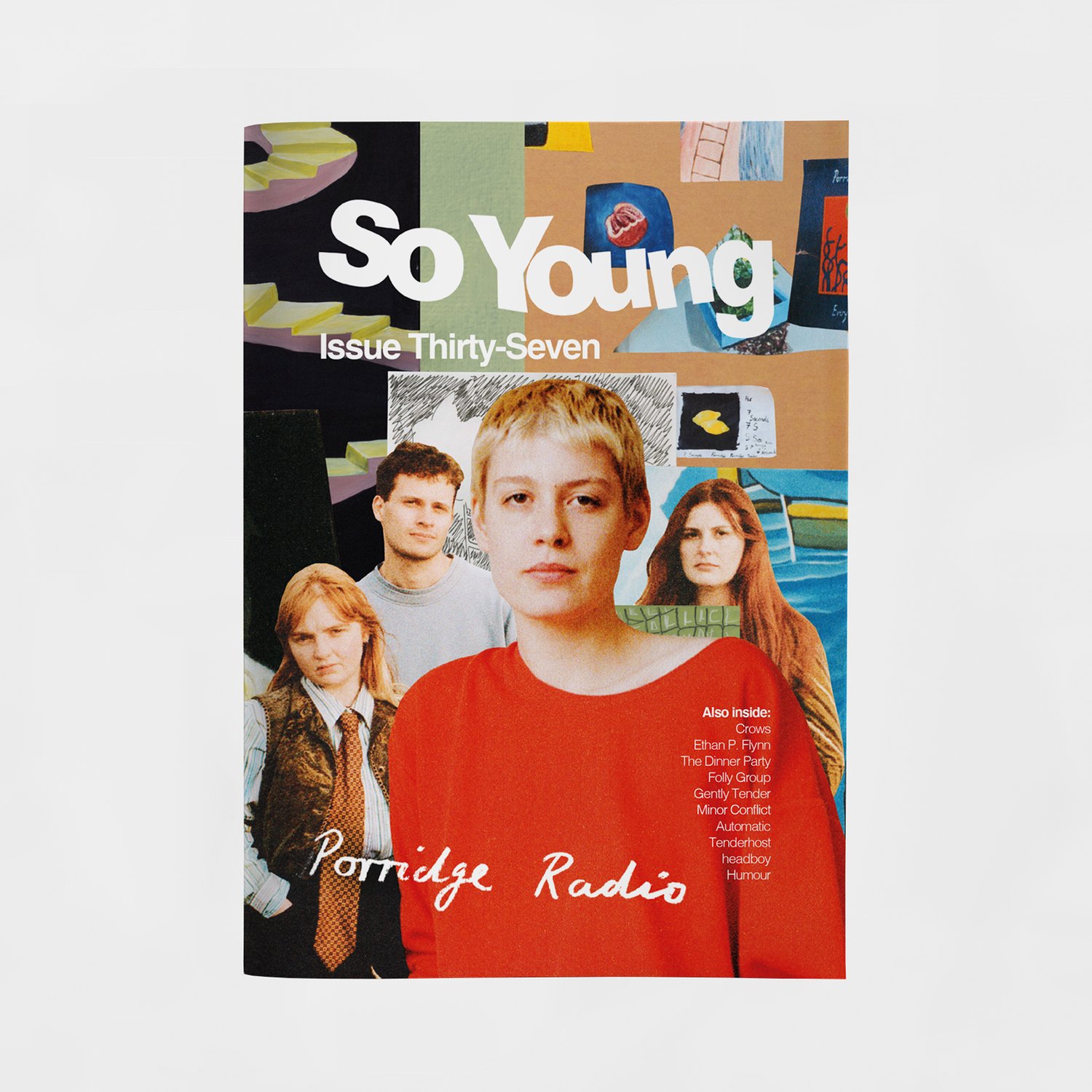 So Young Issue Thirty-Seven
So Young Issue Thirty-Seven
As we're teased with a little more sunshine, we release our thirty-seventh issue. Porridge Radio are on the cover and we catch up with lead singer, Dana Margolin to talk about the new album, 'Waterslide, Diving Board, Ladder To The Sky'. Digging into a gluten free Crumpet, Dana opened up on her illustration which accompanies the record, vulnerability, and dreams of pastries.
London's Folly Group have recently signed to Ninja Tune's Technicolour imprint, becoming the first band on the label. The four piece have followed up 2021's 'Awake and Hungry' with second EP, 'Human and Kind'. Via Zoom, we chat about their transition from a lockdown band, amping up the electronic elements and tour survival. Staying in London, Crows are the debut signing to the Bad Vibrations label. As they prepare to unleash album two, we dig into their ambition to make a few quid and how they're embracing being dumped under the post-punk umbrella.
LA's Automatic released their debut album in 2019 and then saw all tour plans to spread the word cut short by the pandemic. Ready to recreate the buzz and unleash a barrage of new music via second LP 'Excess', the band fill us in on embracing punk as an attitude and how the only way out of capitalism is to build communities outside of it. Heading back to the UK, via Matthew E. White's Spacebomb studio, Gently Tender are back. With the release of 'Dead is Dead', Sam Fryer and co have made their statement of intent.
We video call Sam to discuss their return, honing your talents and weaning off the dark emotions.
The Dinner Party are turning heads. The five piece can currently only be found on small venue stages and the odd live video on YouTube. Delving into their world of gothic infused alternative-pop songs, The Dinner Party told us of their admiration for Bowie and Queen, and how they want to be the band their teenage selves would've loved. Since we last spoke, Ethan P. Flynn has released his debut collection of songs 'B Sides and Rarities: Volume 1' and followed it up with debut EP 'Universal Deluge'. As an artist, Ethan P. Flynn doesn't like to look back, but we managed to get him to reflect on the songs, the achievements to date (Ref: Writing with David Byrne and FKA Twigs), and how it would feel to be someone's favourite.
In our twelfth Artist Series edition we've collaborated with realist painter Simon Monk. In our interview we talk about balancing his two key influences of pop culture and classical painting, providing the artwork for Black Country, New Road's 'Ants From Up There' album and getting back to the subject matter that helped him achieve his initial success.
Finishing the issue are a bunch of brand new artists who we think are well worth your time. Dig in to find catch ups with Glasgow's Humour, Bristol's Minor Conflict, plus London bands, headboy and Tenderhost.
Artists in this issue;
Dana Margolin
Josh Whettingsteel
Jam Dong
Dylan Hall
Anna Maria
Spencer Ashley
Lucas Burtin
Linda Schwalbe
Simon Monk
REN
Meu Teng
Please Note: For card payments (via Stripe), Billing address must match with that on the card. If you wish to have your purchase delivered to an alternative address please leave the address within 'Delivery Notes'.