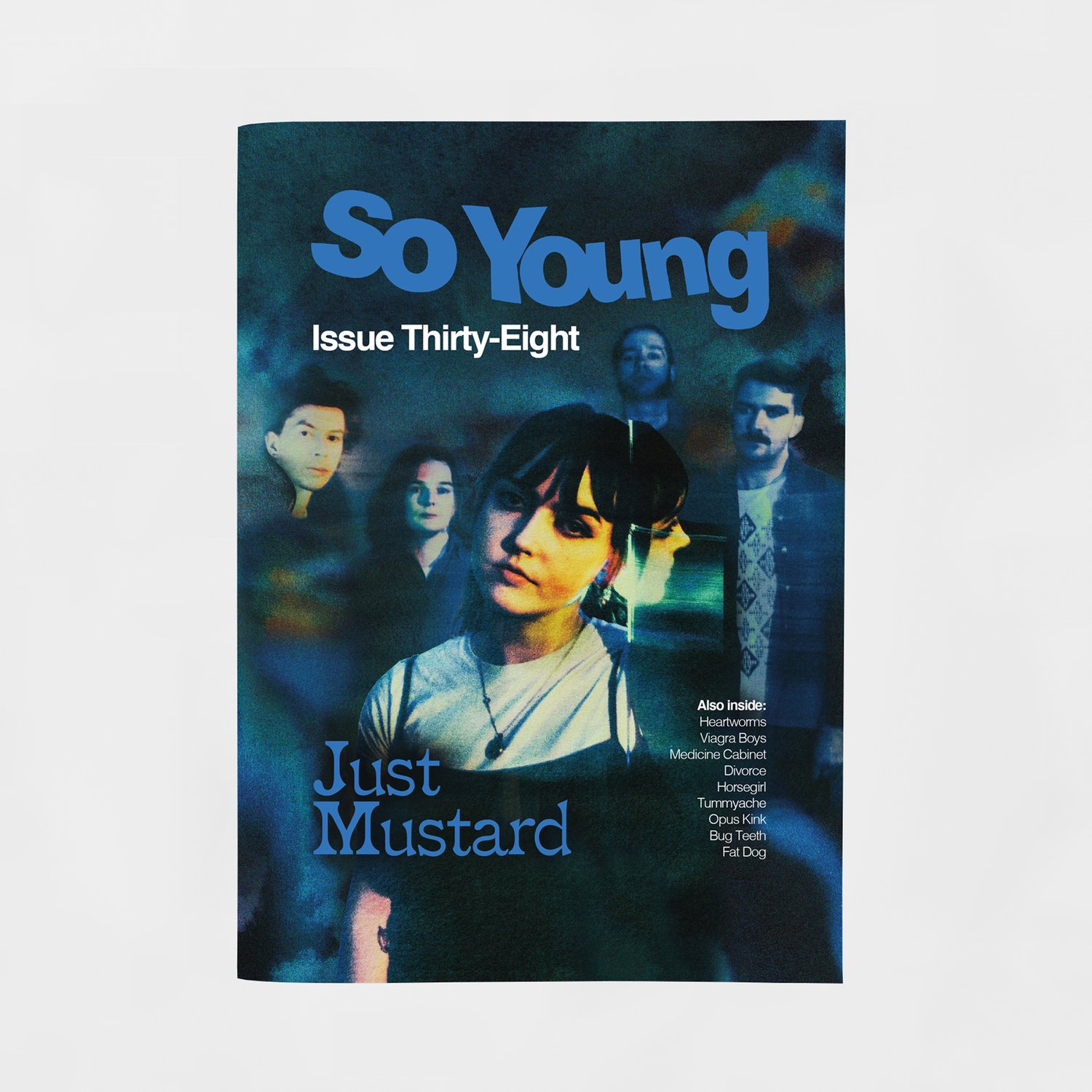 So Young Issue Thirty-Eight
So Young Issue Thirty-Eight
As we enter, what feels like, the first full festival season in a few years, this issue serves as an entry point to some bands who will be gracing those famous tents this summer and maybe more importantly, those who will have high hopes to be there next year. On the cover of Issue Thirty-Eight are Just Mustard, a group who with new album, 'Heart Under', have created an immaculate, shoegaze drenched soundscape and are quite simply, every band's favourite band right now. They should probably be yours too.
Viagra Boys are gearing up for the release of album number three. One in which, we, and maybe they, thought would never come. In the midst of touring, frontman, Sebastian Murphy talks us through his change of lifestyle, comic relief (not that one), and self loathing for the sake of the art.
Before heading back to the UK, Chicago's Horsegirl have released their debut album via Matador. The three-piece have been balancing school alongside the hype, but now, with the help of a close knit community, they're ready to celebrate. Via Zoom, we catch up on the importance of Chicago, moving to New York and coping with talented friends watching the show.
In London, Fat Dog have been wowing, terrifying and making crowds cry since live shows returned last year. Once the green light was given to ditch the chairs and have full capacity audiences again, Fat Dog have been filling rooms with their Techno-Donk-Klezmer hybrid electronica. Additional respect goes to Fat Dog's drummer, Johnny, who played the whole of their Great Escape 2am set in an alsation mask. We caught up on the beginnings of Fat Dog and their upcoming taxi service.
Staying in the capital via Texas, Tummyache, the latest project from Soren Bryce, have released their new album 'SOAK'.
We spoke for the first time during a recording session in Devon, and discussed their dynamic blend of DIY punk, shoegaze and bedroom pop.
Opus Kink have a formula for bangers and a thing for insects. The former is making more and more people buy tickets. With a sold out 100 Club to their name already, we touched base at the pub to see how it all comes together.
Heartworms have signed to Speedy Wunderground, and although there's not too much to hear just now, the vision is strong and control is intact. Ahead of an inevitably busy 12 months for Jojo and co, we caught up on all things Heartworms and how passions such as the military have seeped into the project.
Glasgow's Medicine Cabinet have been in these pages before - but that was way back, when all you could find was a distorted live video on YouTube. With their first single proper under their belt, we thought now was the right time to dig into the direction of the band and get a hint of what's to come.
In Norwich, and soon to be Leeds, are Bug Teeth. Led by PJ, the newbies have shared 'Ice-9', their first single since 2019. Excited by the single, we reached out to and chatted through why it's taken so long and the impact of Kurt Vonnegut.
Rounding off the music are Nottingham's Divorce. Big chorus' and hooks aplenty, make this new group, formed of Do Nothing and Megatrain members, very exciting. Eager to know the ins and outs, we gave them a call and even helped them form a new name.
Lastly, this issue's illustration-focused feature looks at the playful work of Molly Fairhurst.
Artists in this issue;
Josh Whettingsteel
Molly Fairhurst
Janik Söllner
Eija Vehviläinen
Emil Wikström
Harry Wyld
Dulcie Brown
Xinyue Song
Imogen Baron
Aran Quinn
REN
Please Note: For card payments (via Stripe), Billing address must match with that on the card. If you wish to have your purchase delivered to an alternative address please leave the address within 'Delivery Notes'.