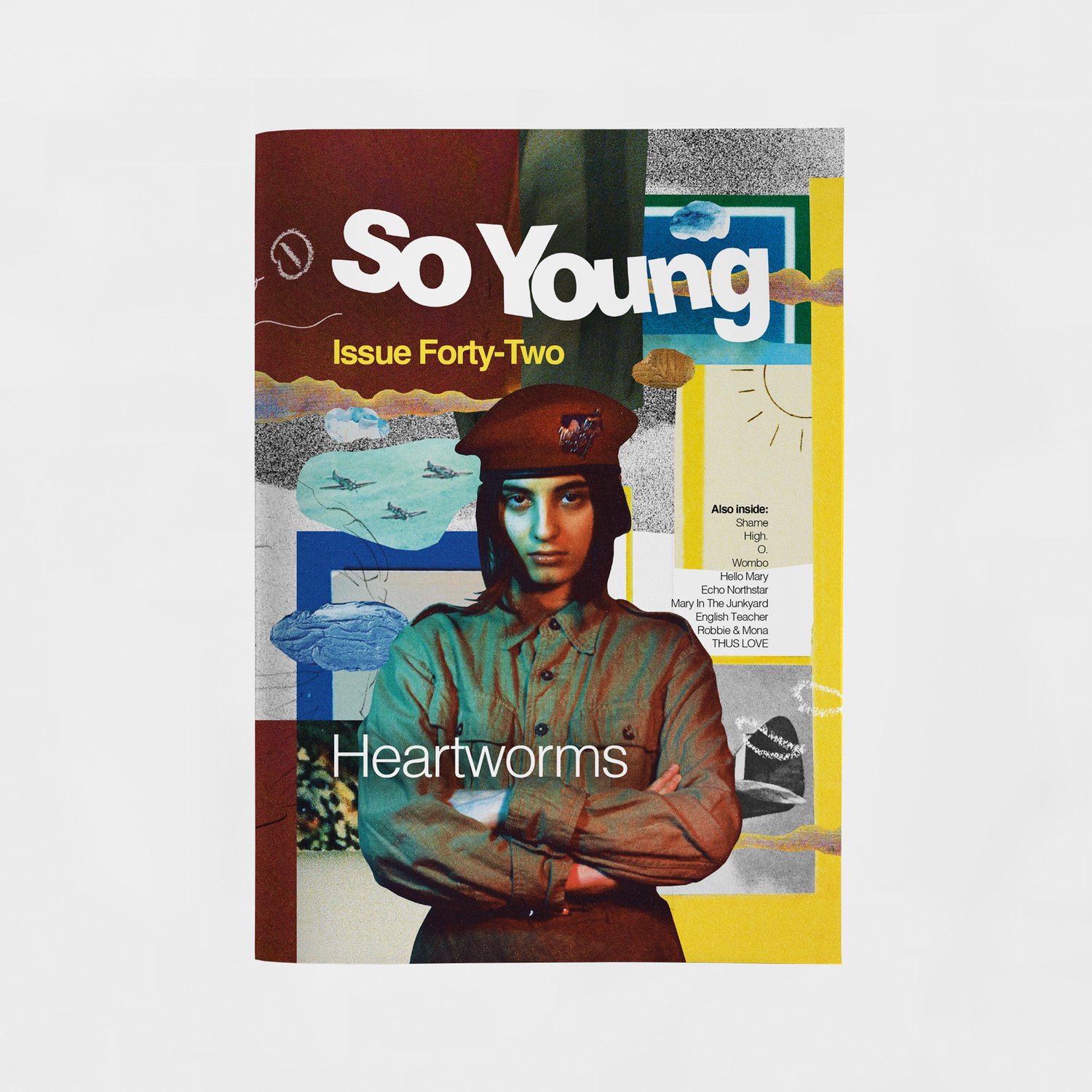 So Young Issue Forty-Two
In our first issue of 2023 we welcome London's Heartworms back to So Young, and this time on the cover. The speedy rise from the Speedy Wunderground signed band will have been hard to miss recently. Ahead of the release of their debut EP, we caught up with frontwoman, Jojo, about realising her manifestations and the Tik Tok men who can't come to terms with a woman in military dress.
Gearing up for album number three are South London's Shame. 'Food For Worms' was born out of the imminent threat of a management imposed 'new songs only' show with no songs to play. We chat to Charlie Forbes and Josh Finnerty about working under pressure, old YouTube videos and getting things done in plenty of time…for once.
In London, via Yorkshire, are English Teacher. Following two very sold out London headline shows, we caught up with the band to chat about their recent work with Dan Carey, creating their own TV skits and their hopes for the debut album.
Arriving in London from Ireland last year was Echo Northstar. After being hooked on recent single, 'Silent Fears' for waaay too long, we decided to reach out. In our conversation we work out who Echo really is and gather advice on how to be in the know and independent all at once.
Mary In The Junkyard are playing a show a week, maybe more, unlikely to be less, and the rooms are filling. Despite their favourite show being the one which was empty (due to train strikes), we caught them after soundcheck, ahead of a packed out performance, to find out how they came to be and who's responsible for the on stage knitwear!
Bristol's Robbie & Mona will release 'Tusky', the follow up album to debut, 'EW', in March. They've collaborated with the likes of Bingo Fury for this one and even let the film, Bad Boys have an influence. We discuss that and more inside.
A duo. A baritone saxophone and a set of drums. Plus eighteen pedals. That's the starting point for new Speedy Wunderground singing, O.. How that works is a lot to unpack and we do just that.
Issue Forty-Two heads over to the USA for its remaining features. New Jersey's High. talk us through their wall of noise shoegaze, with a hint of mild pop. And in Brooklyn, Hello Mary tell us about how lockdown removed the noise and how they sit somewhere between Elliott Smith and Sonic Youth.
Brattleboro, Vermont is home to THUS LOVE but they're currently in the UK touring. Ahead of a very packed show at the Sebright Arms, we discuss them being a queer band, how they built their own studio and lockdown cooking. To finish us off are Louisville's Wombo. Their brand of Psychedelic Post-Punk has had us excited for some months now and the news of their imminent arrival on our shores is the best news. We give them a tarot reading via zoom.
We've written about Tatjana Rüegsegger's incredible, immersive project, 'Brexit Bedrooms' and more recently it was her photos of Lime Garden that adorned the cover of issue 41. We thought we'd dig a little deeper into the Swiss photographer's work and process.
Artists in this issue;
Josh Whettingsteel
Kim Blue
Inês Viegas Oliveira
Sergey Isakov
Martha Verschaffel
Pauline Pete
Eva Klemann-Kochhan
Alice Meteignier
Tatjana Rüegsegger
Michael Highway
Bahij Jaroudi
REN
Alison Laing