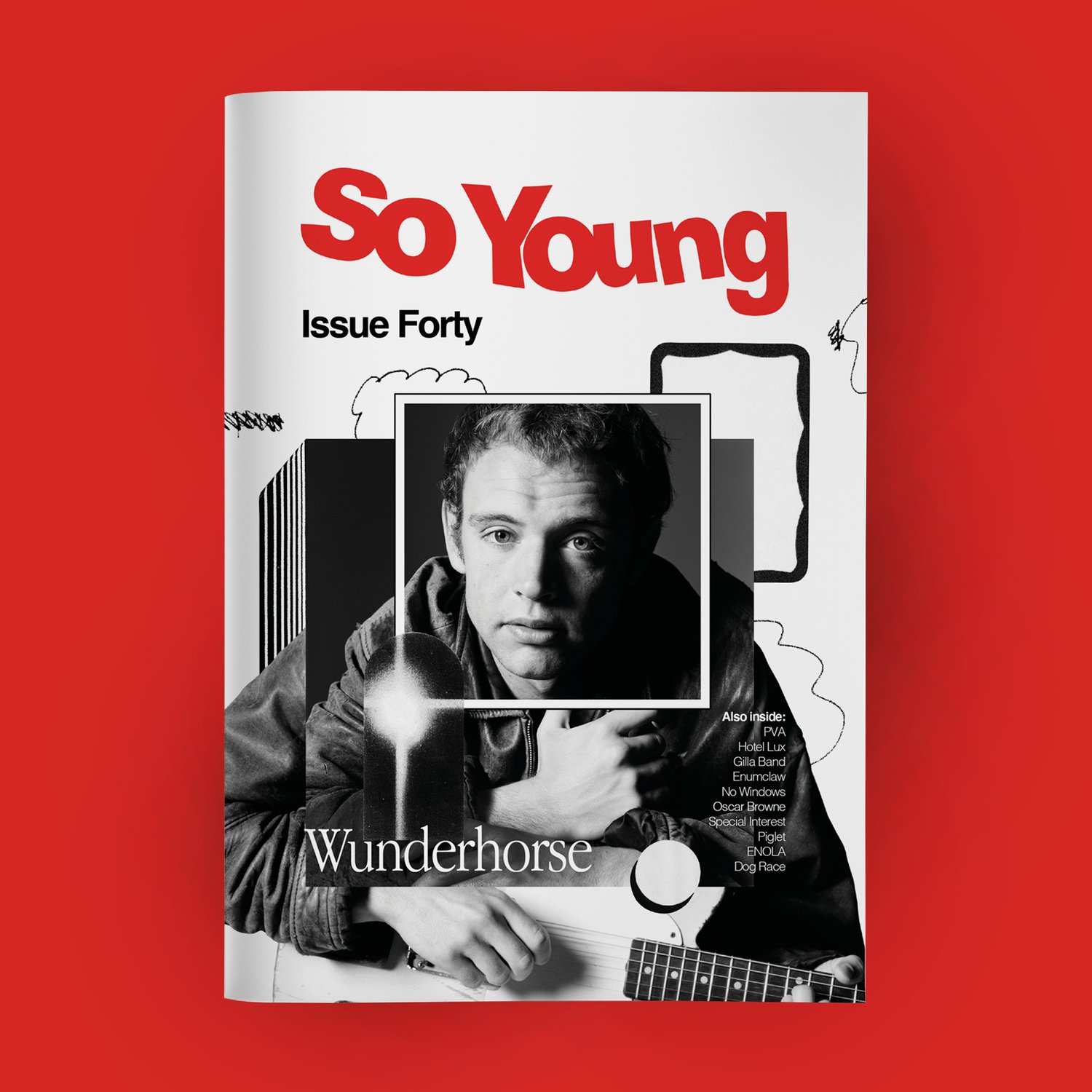 So Young Issue Forty
Inside Issue Forty, and alongside interviews with some of the most exciting new bands, you'll find conversations with artists who's relationship with So Young goes way back. Since disbanding Dead Pretties in 2017, Jacob Slater hasn't stopped writing and performing. With new band, Wunderhorse, debut album, 'Cub' has been released to the world, and it feels like things are only just getting started. We catch up with Jacob on leaving school early, his deep respect for Fontaines D.C. and how Sinead O'Connor is the biggest punk out there.
In New Orleans, new Rough Trade signings, Special Interest are gearing up to share 'Endure', their new album. Via zoom, with three quarters of the band, we delve into pushing forward, dance music, and how their music shouldn't be perceived as activism. Staying stateside, Tacoma's Enumclaw take our call for the second time. The "best band since Oasis" release debut album, 'Save the Baby' in October. They hope it'll give them all they need to buy a van. We discuss their working class beginnings and the formation of the record inside.
Back with the Rough Trade label, Gilla Band are preparing for the release of album three, 'Most Normal'. Speaking with Dara and Alan, we learn of the influence that Missy Elliott had on their rehearsal motivation and how they strive to breathe intensity into the mundane. London's PVA are going to release an album too. October sees the release of debut, 'Blush', a collection of songs which makes sense of the trio's plethora of sounds and moods. We get pretty wholesome and put them on the spot to outline exactly what they appreciate most about each other.
Staying in the city, Hotel Lux are back. It's true. Debut album 'Hands Across the Creek' will land in January next year and it's been a long time coming. Following an offering of brownies, the band tell us about their relationship with producer Bill Ryder-Jones, getting out of a writing dry patch, and moving out of a scene and on with the times.
Belfast born, London based, Piglet is the solo project of Charlie Loane. Tackling gender identity and mental health, the former Great Dad member speaks to us about escaping the bedroom studio and creating his new EP. Another solo project on our mind is Oscar Browne. Former member of Dead Pretties and current Broadside Hack, Oscar is finally making strides on his own. Following the release of single 'Never Quite Right' we meet to talk moving house, moving on from old bands and moving from punk rock to British Folk.
Edinburgh newbies, No Windows, have just about left school. Forming through a shared willingness to cover Mac Demarco, the duo now create their layered dream pop with inspirations closer to Mazzy Star and Elliott Smith. We call for their first ever interview inside. We finish off this issue with two of our favourite new bands, Dog Race and Enola. Bedford's Dog Race open up about losing members and triggering insomnia with a song about night terrors, and Melbourne's Enola have Manchester roots, giving us the inside scoop on the influence of hearing Joy Division as an unborn child.
Earlier this year, Graphic Designer, elahny was tasked with designing the sleeve for the first album on So Young Records, we dig in to the collaborative success story.
Artists in this issue;
Josh Whettingsteel
Ant Hamlyn
Claudia Bernardi
Yulia Drobova
Sophie Vallance Cantor
Gavin Shepherdson
Taehyoung Jeon (Maria)
Cameron JL West
Melcher Oosterman
Julie Alex
Kalisha Quinlan
Wei Wu
Pat Thomas
Ying Zeng
elahny
Spencer Gabor
REN
Bradley Jones